Youth Minister to Visit Emporia's Rising Star Baptist Church, Ante | News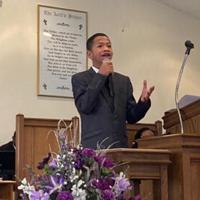 Minister Elijah Lee will preach on Friends and Family Day at Rising Star Baptist Church, Ante on Sunday, February 6 at 9 a.m.
Lee is a 14-year-old ordained minister and community activist. He is the son of the late Marvin Lee, Sr. and the late Jessica Lee.
Elijah started offering brief messages in the church at the age of five (5) during youth services. As Elijah continued to grow in Christ, it was clear that God had a call on his life. He was ordained under National Bishop Dupree at Holy City Church at the age of 10 in 2018. Since his ordination, Elijah has continued to offer the word of God in churches across North Carolina and Virginia.
Elijah is also a youth activist, public speaker and founder of a non-profit organization. For the past five years, Elijah has led annual events and been a national speaker to raise awareness of the problem of child abuse. For his efforts, he was featured on the Marvel Hero Project still streaming on Disney Plus and he made appearances on The Kelly Clarkson Show as well as People Magazine. Elijah was one of 20 Time Magazine/Nickelodeon Kid of the Year finalists and he made an appearance in the Black Panther Comic.
Most recently, Elijah is a Jack Kent Cooke Scholar and a 2022 Virginia General Assembly cohort member. He started a non-profit organization, Hear Our Voices, in 2021 that is dedicated to empowering youth. For his work, Elijah is currently a finalist for Youth Entrepreneur of the Year by the Metropolitan Business League in Richmond.
Elijah remains a committed servant to God and gives all honor and glory to his Lord and Savior Jesus Christ.