USask welcomes the Prime Minister of Canada – News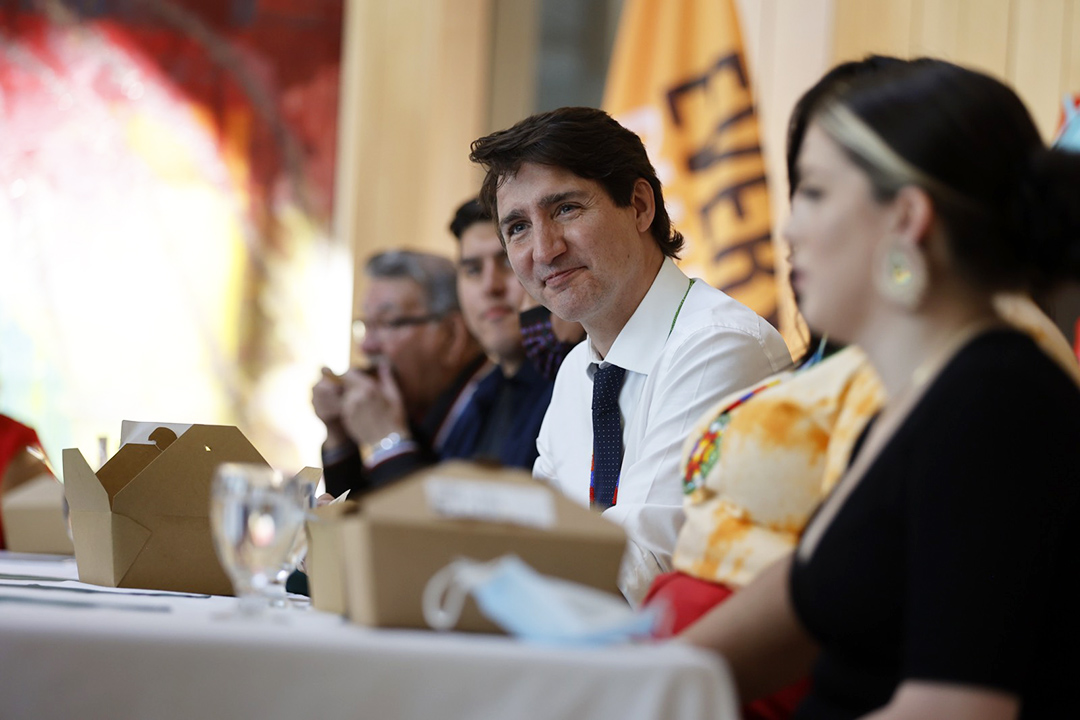 Sheldon Bear, who is just two weeks away from earning a management degree from USask's Edwards School of Business, was one of the students who had lunch with Trudeau. Her home community is Little Pine First Nation.
He had a list of questions to ask, focused on breaking down barriers to economic development for First Nations.
"I wrote them down in case I got nervous," he said. "I never thought a chance like this would happen."
After the lunch meeting, Trudeau toured the university's Crop Development Center (CDC) research plots and VIDO.
"The University of Saskatchewan is recognized as a national leader in everything from crop development to vaccine research to Indigenous initiatives, and we were honored to showcase these areas and more. again to Prime Minister Justin Trudeau," USask President Peter Stoicheff said. "We have made great strides in developing local solutions to national and global issues, while building a campus community committed to the values ​​of equity, diversity and inclusion. We are grateful for the continued federal support for our university facilities and programs and appreciated the opportunity to highlight some of USask's accomplishments and advancements for the premier.
Baljit Singh, USask vice president of research, Angela Bedard-Haughn, dean of the College of Agriculture and Bioresources, and Curtis Pozniak, CDC director, greeted the prime minister and gave him a tour of the research plots close to the main USask campus. Bedard-Haughn provided an overview of the importance of soil and plant science and how research in these two areas can provide solutions to climate change.
Students then had the opportunity to present their research in support of agricultural development in Saskatchewan and Canada. Demonstrations of how plant breeding and integrated agronomy play a role in climate, soil, and food security were provided by USask students Adam Carter, Alex Waldner, and Warren McCauley. A drone demonstration led by student Hansanee Fernando showed the importance of using technology for precision farming and how it can help agricultural researchers observe and monitor crop characteristics.
Waldner completed his undergraduate degree at USask and has just started his master's in the forage program. She shared a breeding plot of hybrid wheatgrass, bred to show better salt tolerance. She explained to the Prime Minister that growing fodder in saline areas can have environmental benefits.
"Farming has always been a part of my life," Waldner said, adding that she grew up on a ranch near Swift Current. "Sustaining it for future generations is very important to me. »
The Prime Minister also took part in a private tour of VIDO's secure research facilities alongside Volker Gerdts, Director of VIDO, Trina Racine, Associate Director of Vaccine Development, and Ryan Thompson, Chairman of VIDO's Board of Directors.
VIDO is Canada's Center for Pandemic Research, providing cutting-edge research and vaccine development to fight infectious diseases. The VIDO team is expanding the infrastructure to a Containment Level 4 facility – the highest possible containment level – as well as building manufacturing capacity.
With key research facilities developed in part through generous funding provided by the Government of Canada in response to the COVID-19 pandemic and the need for an expanded Canadian biomanufacturing industry, Trudeau had the opportunity to engage with VIDO staff and students to lead the future of biomanufacturing in Canada. .
This was Trudeau's third visit to USask as prime minister.