–Travel announcement, Ukraine and other topics – Daily press briefing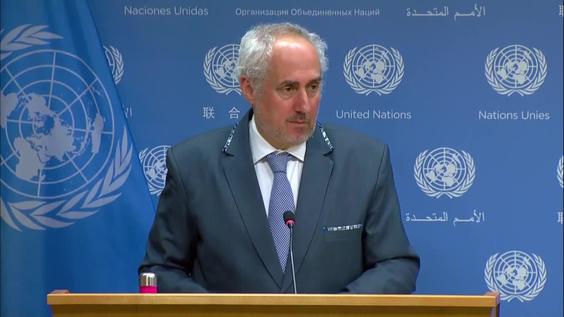 On Monday, the Secretary-General will begin a two-day visit to the Republic of Moldova.
The Deputy Secretary-General will travel to Abidjan, Republic of Côte d'Ivoire, from 7 to 9 May, at the invitation of the Government, and will attend, on behalf of the Secretary-General, the opening of the upper segment at the level of the fifteenth Conference of the Parties to the Convention to Combat Desertification. From May 10-13, she will travel to Vienna, Austria, for meetings with regional economic commissions and the United Nations Sustainable Development Goals Leaders Meeting, May 10-11. She will, of course, join the Secretary-General in attending the meetings of the Chief Executives Board on 12 and 13 May.
We, together with our humanitarian partners, continue to expand relief operations in Ukraine and have now helped over 5.4 million people across the country since the war began a few weeks ago.
On the Middle East, on yesterday's terrorist attack in central Israel, the Special Coordinator for the Middle East Peace Process, Tor Wennesland, said he was appalled by the attack in which three Israelis were killed and several others injured.
Quick update from Lesotho, where the UN team led by Resident Coordinator Amanda Khozi Mukwashi is supporting the country's efforts to combat the pandemic and other challenges. Over 950,000 doses of vaccines have landed in Lesotho via COVAX, and over 930,000 of those vaccines have been administered.
And finally, our colleagues at the Food and Agriculture Organization of the United Nations in Rome say that world food prices fell in April after a significant jump in March.