Students must participate to maintain economic recovery: Minister Uno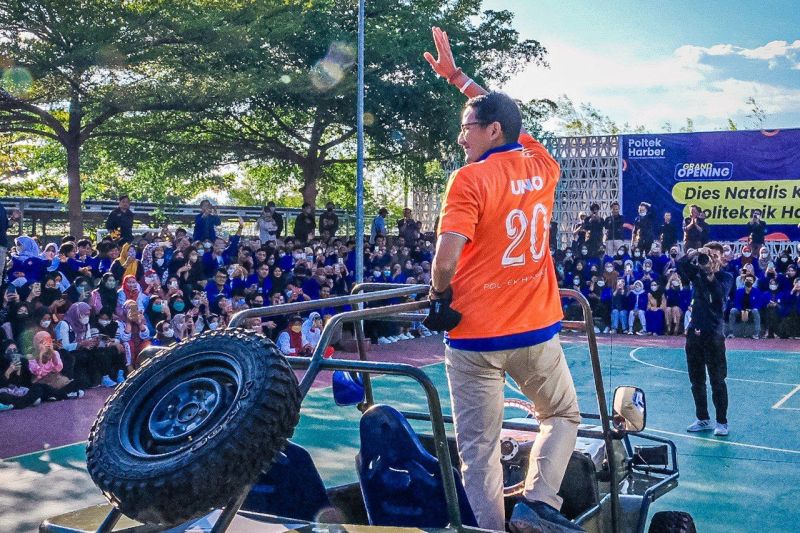 Jakarta (ANTARA) –
The Minister of Tourism and Creative Economy, Sandiaga Uno, encouraged university students to exert all their efforts and optimize their role in maintaining the momentum of economic growth, especially in the tourism and tourism sectors. the creative economy.
"To meet today's challenges, we must work hard. Don't stop before our work is finished and don't work halfway. Finish what you start, give your best and leave the rest in the hands of the Almighty God," Uno said in his address at the 20th Dies Natalis of Harapan Bersama Polytechnic in Tegal, Central Java, according to an official statement received here on Monday.
He said that based on personal experiences, new business opportunities will arise under difficult conditions.
The minister then urged students to wake up to develop a prosperous Indonesia by creating more jobs for residents.
"We must not forget that we need these three principles of working together, working fast and working to seize all potentials, because the role of young people to seize opportunities and become the winner is enormous," Uno explained. .
During the event, the minister was presented with a commemorative plaque and jersey before throwing a ball at a goal post to open the commemoration of Polytechnic's Dies Natalis.
He also encouraged Harapan Bersama Polytechnic to collaborate with Tourism Polytechnics under the Ministry of Tourism and Creative Economy to boost entrepreneurship and digitalization, as well as the implementation of the Merdeka Belajar Kampus Merdeka (Freedom of Learning, Free Campus).
Related News: Coal Tourism Village Begins Educational Tourism for Students
"University students should study and later work with the principles of working hard, working smart, working until the end, and working sincerely," Uno said.
The Minister had previously made a similar request to santris, or students of Islamic boarding schools, to apply digital marketing to the marketing of their flagship products.
"We expect the santris, whose products have been exhibited, to be more proficient in using digital marketing. (It's) because it's part of our steps to create 1.1 million new jobs this year," he noted during a working visit to Bahrul. Maghfiroh Islamic Boarding School, Wednesday 29 June.
In the current era of industrial revolution, digitalization can be an important marketing tool, especially for products produced by santris, he added.
They are also expected to take risks in running their businesses, he said. According to Uno, failures are common when running a business and this is the main stepping stone to success.
Related News: Ministry opens SBMPTNP for 3,355 prospective students