Proliga selection event for the national volleyball team: Minister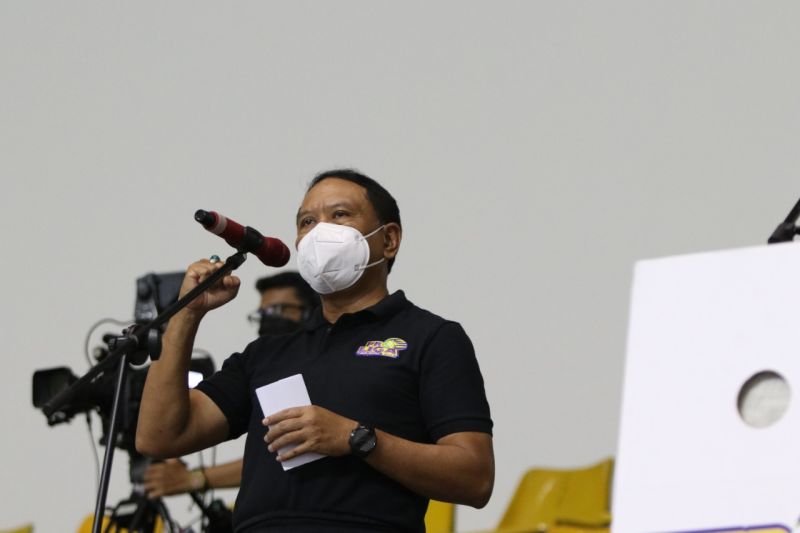 At the same time, the implementation of the competition can cure the desire of Indonesian volleyball fans.
Jakarta (ANTARA) – Youth and Sports Minister Zainudin Amali said that the 2022 PLN Mobile Proliga National Volleyball Competition is an opportunity to select national players for the 31st SEA Games.
He officially opened the tournament on Friday at the General Kunarto Volleyball Training Center in Sentul Village, Bogor District, West Java Province.
"Although it takes place without spectators, the Proliga 2022 is still lively," he said in a statement received by ANTARA of the Indonesian Volleyball Association (PBVSI) on Friday.
Additionally, he said he expected the competition – which had been suspended in 2021 due to the COVID-19 pandemic – to serve as a momentum for higher achievements.
The minister said he hopes the women's national team will be able to follow the achievements of the men's national team, which won gold at the Philippines SEA Games 2019 after beating the host team by 3-0. (25-21, 27-25, 25-17).
At the event, the Indonesian women's team won the bronze medal. Meanwhile, the gold and silver medals were snatched by Thailand and Vietnam respectively.
According to PBVSI general chairman Imam Sudjarwo, the 2022 Proliga aims to train and consolidate the Indonesian volleyball team for the 31st SEA Games, which will be held in Hanoi, Vietnam, from May 12 to 23, 2022.
"At the same time, the implementation of the competition can cure the desire of Indonesian volleyball fans," he added.
To anticipate the transmission of COVID-19, 2022 PLN Mobile Proliga is being implemented without spectators, officials said.
A total of 11 volleyball teams from across Indonesia are participating in the tournament.
The Jakarta Pertamina Pertamax, Surabaya Bhayangkara Samator, Jakarta BNI 46, Kudus Sukun Badak, Palembang Bank Sumsel Babel and Bogor LavAni teams compete in the men's category.
Meanwhile, the Jakarta Pertamina Fastron, Jakarta Electric PLN, Gresik Petrokimia Pupuk Indonesia, Jakarta Popsivo Polwan and Bandung BJB Tandamata teams compete in the women's category.
Related news: Amali's optimistic sporting activities will recover in 2022
Related News: Ministry Rewards Citilink Airlines For Supporting Sports Tourism
Related news: Minister optimistic about Olympians' contribution to sport