On this World Press Freedom Day, Ukraine is in the spotlight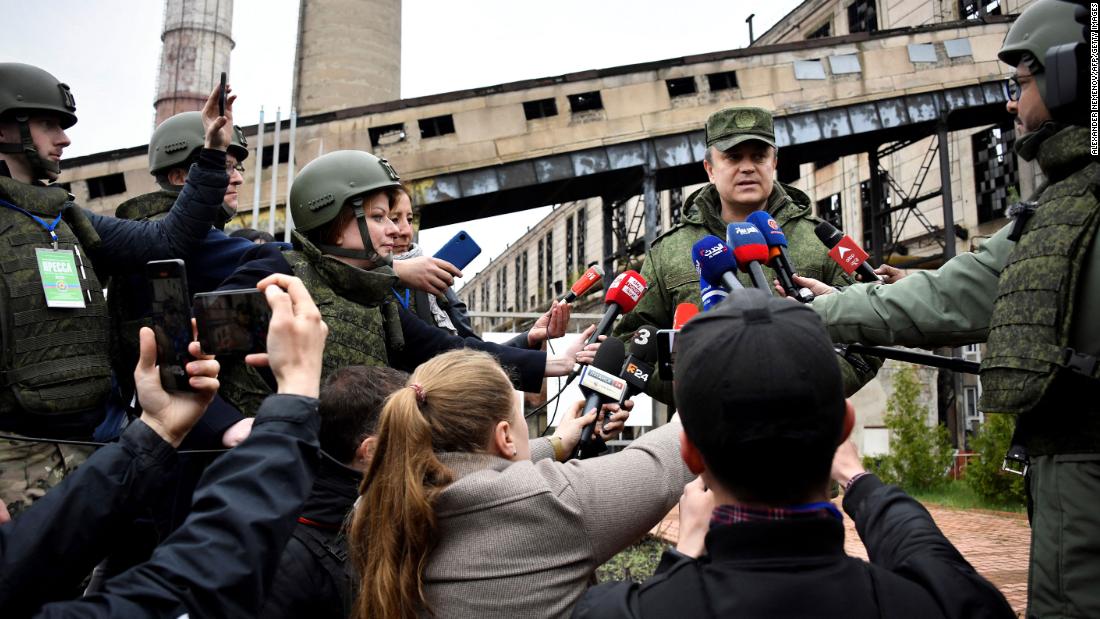 This year, the war in Ukraine; the murder of journalists throughout the war zone; and restrictions and prosecutions against journalism in Russia are at the forefront. The same goes for acts of violence, arrests and threats in other countries. "They don't all happen in authoritarian regimes," Jodie Ginsberg, the new chair of the Committee to Protect Journalists, said in an interview. "They happen here in the US, in the UK, in Europe."
UNESCO, a branch of the United Nations, is organizing its free annual press conference in Uruguay this year. The theme is "Journalism Under Digital Siege", dealing with freedom of expression, safety of journalists, privacy, access to information, etc.
Pope Francis recognized Press Freedom Day on Sunday, telling worshipers, "I pay tribute to journalists who pay with their lives to serve this right."
The pope spoke of the murder and imprisonment of journalists around the world and said, "Special thanks to those who courageously inform us of the wounds of humanity."
How to participate
Organizations like the National Press Club and PEN America will produce events that anyone can attend virtually. Here are a few:
— USAID Administrator Samantha Power participates in a Twitter Spaces chat with Ukrainian journalists.
— PEN America hosts a discussion on "Disinformation Without Borders," with a focus on immigrant and diaspora communities.
— The Forum on Information and Democracy is organizing a session on the need for transparency in digital platforms.
— CNN is hosting an edition of #CITIZENCNN for World Press Freedom Day. Jason Rezaian, Alex Marquardt, Elle Reeve and Donie O'Sullivan are the speakers.
— The National Press Club is organizing a roundtable with journalists from Iran, Afghanistan and other countries.
Biden led a standing ovation for fallen journalists
At the White House Correspondents' Dinner on Saturday night, President Biden appeared to be the very first person to stand and applaud after a video tribute to journalists who were killed while covering the war in Ukraine. Veteran White House correspondent April Ryan noticed the same thing: "He started clapping slowly," she said on "Reliable Sources," and the rest of the room followed suit.
A little later, during his remarks, Biden said "we have all seen the courage of the Ukrainian people through the courage of the American journalists in this room and your colleagues around the world who are on the ground, committing suicide in their own hands." And he referred to Donald Trump's 'enemy of the people' attack and dismissed it, saying, 'at best you are the keepers of the truth'.
Biden was followed by entertainer of the evening, Trevor Noah, who greeted war correspondents between his jokes about the press and the president. Noah's strongest media criticism came right at the end:
"I stood here tonight and made fun of the President of the United States and it's going to be okay. Do you understand what a blessing this is? It might slip your mind, it's a blessing. Ask yourself this question: if Russian journalists are fighting to report what their own government is doing, if they had the freedom to write any word to ask any question, if they basically had what you had, l would they use the same way you do this question every day."
The dangers facing Ukrainian journalists
The Committee to Protect Journalists
posted a video
Monday to honor "the lives of at least 7 journalists killed while covering the Russian-Ukrainian war. They are remembered by their friends, families and colleagues as uncles, cat lovers, jokesters and many Moreover".
Charles M. Sennott, founder and editor of The GroundTruth Project, recently visited Kyiv and spoke with Ukrainian journalists about the many dangers of war coverage.
"As the world prepares to mark World Press Freedom Day on Tuesday," he wrote, "it is safe to say that Ukrainian democracy – indeed, democracy everywhere, including our own here in America – will require courageous, independent, factual journalism if it is to survive."
A version of this article first appeared in the "Reliable Sources" newsletter. You can register for free here.