Minister highlights very high Australian tourist demand to visit Bali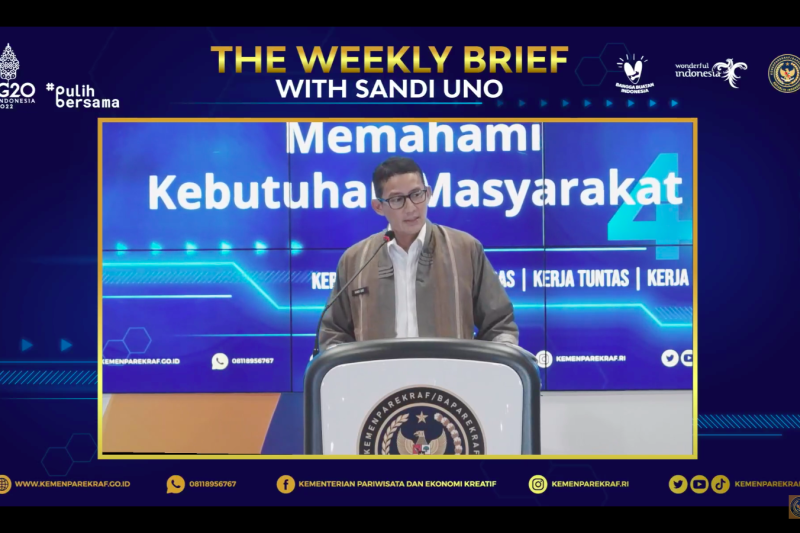 Jakarta (ANTARA) – Demand from Australian tourists to visit Bali is very high, Tourism and Creative Economy Minister Sandiaga Uno said in an official statement on Tuesday.
This is supported by the easing of most travel restrictions, improved implementation of health and safety standards, new tourism product offerings and increased efforts to amplify the uniqueness of the culture of bali.
"The Department of Tourism and Creative Economy is committed to maximizing the potential of Australian tourists to drive economic recovery," he noted.
The department is working to increase Australian tourist visits by supporting 18 hospitality and tourism industry players to conduct a trade mission to Australia from August 22-25, 2022.
The sales mission, themed #itsTimeforBali and Explore Beyond Bali, includes a series of activities that include a one-on-one business meeting, a table meeting and a sales call in two cities, Melbourne and Sydney.
During the roundtable, Indonesian tourism stakeholders showcased and developed a network with 150 agents and retailers from four major wholesalers in Australia: Flight Centre, Helloworld, Bali Tours and Hoot Holidays.
Additionally, the department is taking the opportunity to network with other major industry players, including Luxury Escapes and Ignite Holidays, mass customers, such as Flight Center, and airlines Virgin Australia and Garuda Indonesia.
"This activity is undertaken with the mission to strengthen the Wonderful Indonesia brand to remain at the forefront of concern for tourists around the world, especially the Australian market," the minister said.
Although Bali remains etched in the minds of tourists, he noted that Indonesia still has other breathtaking destinations, such as the natural beauty and culture of five super-priority tourist destinations.
Related news: Indonesia ready to welcome Australian tourists: Minister Uno
These destinations include Borobudur in Central Java, Likupang in North Sulawesi, Mandalika in West Nusa Tenggara, Labuan Bajo in East Nusa Tenggara, and Lake Toba in North Sumatra.
Additionally, the ministry is using the momentum of the Indonesian tourism revival by introducing three additional destinations into the Australian tourist Bali vacation plan, namely Labuan Bajo, Lombok in West Nusa Tenggara and Borobudur.
In 2019, a total of 1.4 million Australian tourists visited Indonesia and 1.2 million of them, or around 85%, traveled to Bali.
Since the reopening of international travel in March 2022, the number of Australian tourists visiting Indonesia continues to increase significantly, reaching 118,347 visitors in the period January to June 2022.
"This sales mission is expected to be able to attract 3.6 million tourists with an income equivalent to $1.7 billion," Uno noted.
Related News: Some 1.4 million Australian tourists to visit Indonesia: Minister Uno