Minister and former Vice President remember late President BJ Habibie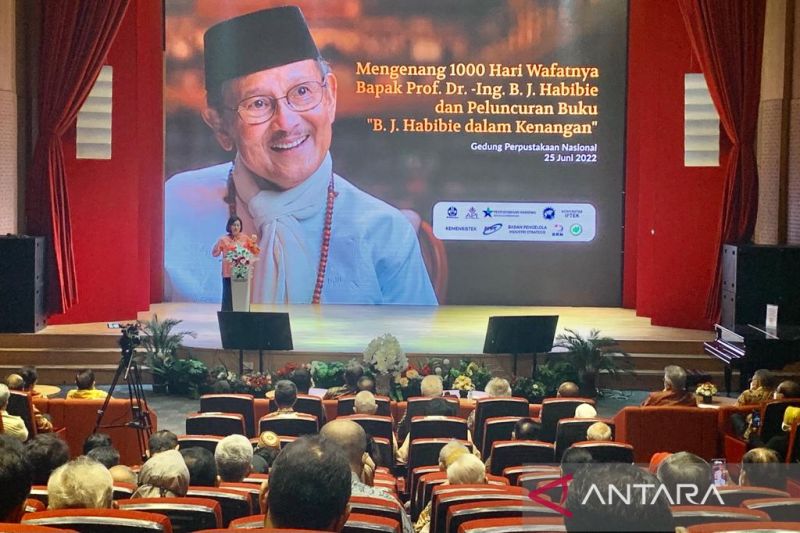 Jakarta (ANTARA) – Finance Minister Sri Mulyani Indrawati and former Vice President Boediono have shared their memories of President BJ Habibie to mark 1,000 days since his death.
The event was held at the National Library building here on Saturday.
Habibie was an extraordinary figure, a technologist of international achievement and reputation, Indrawati said.
"He also had extraordinary achievements in the invention of the N250 and aviation technology, but he was asked to come back to build Indonesia, he went home," she added.
She hailed him as a role model and recalled how much he loved his wife, was a good father and had strong religious values ​​until the end of his life.
"Mr. Habibie is also an extraordinary personality towards Ms. Ainun. It also inspires all of us (as an example of how to) be a husband who loves his wife, (how to be) a father to his children and a very religious person," a- she points out.
Related News: Habibie promoted Indonesia's competitive advantage
Former Vice President Boediono said Habibie was a national figure capable of encouraging the country's economy during the reform era.
During his tenure as president, Habibie managed to move the gross domestic product from negative territory to surplus territory, after the reform.
"During the brief period of the development reform cabinet, the national economy began to (improve). The economy which was originally in free fall could be put on hold and revived. If, in 1998, Indonesia's domestic product was shrinking by minus 13%, in 1999 it could still grow by more than 0.8%," Boediono noted.
Deputy Speaker of the House of Representatives Rahmat Gobel also expressed similar sentiments, saying Habibie believed that the quality of human resources and education were important factors in moving Indonesia forward.
"In moving Indonesia forward, for Mr. Habibie, the function (was based on) the quality of human resources. Indeed, this is very important in the industry. Before making quality products, (he) is ( important) to build quality human resources," said Gobel.
Attendees at the event included current and former officials, including the former Coordinating Minister for People's Welfare, Aburizal Bakrie; former Speaker of the House Akbar Tandjung; and the former Coordinating Minister for Economic Affairs, Hatta Rajasa.
At the end of the event, science and technology activists were due to visit the graves of BJ Habibie and Mrs. Ainun Habibie at Kalibata Heroes Cemetery.
Related News: Hundreds of Muslims in Gaza perform prayers for late BJ Habibie
Related News: Children in West Papua urged to emulate Habibie's excellence