K-State Football – Press briefing – News Radio KMAN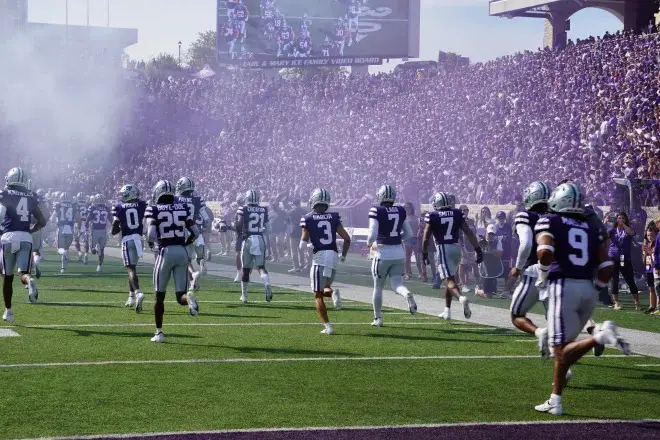 Felix Anudike-Uzomah
and
Khalid Duke
became the first Wildcat teammates to each earn three sacks in a game against Texas Tech. Adrian Martinez took note by wearing a #91 jersey in his interview today.
"I had to buy it, no free documents here. He means a lot, he's a stallion in defense and had a great performance last week and is key to our team.
Anudike-Uzomah said he and Duke had pre-season conversations about how "deadly" they could be on the court together and were able to prove it on Saturday.
"It showed everyone how great Khalid Duke and I are. And again, it's not just him, it's Nate and Mott. They are both effective pass throwers.
Duke walked away with Big 12 Defensive Player of the Week honors, and Anudike-Uzomah had nothing but enthusiasm for his teammate.
"I was very excited, he went through a lot. His knee, his surgery and his rehabilitation. He also had personal issues, so to see him get this award, it was very happy for me.
Defensive tackle Eli Huggins plays between the Wildcats' two talented passing throwers, Huggins credits the entire team's success to their depth.
Chris Klieman said they will still use Duke in coverage, but will try to find more chances for him to play alongside Anudike-Uzomah.
"We have to keep finding different ways to use Khalid. We're still going to play it in our feature stories, but are also trying to find different ways to use it in peak play. I don't know if it's a first down or a third down, but he's one of our best 11 and we just have to find ways to get him on the pitch in different places.
Klieman halftime fire
On Saturday, the Wildcats took a 13-point lead that had dissolved to a 13-10 halftime lead. Chris Klieman was not happy with this and let it be known in his halftime interviews with television and radio, it was not going to fly. His players also heard about it, they all enjoyed the wake-up call and said the speech motivated them.
Deuce Vaughn decided to give the speech a grade: "Ten out of ten, 100%. It woke us all up and something we needed from our head coach.
Kade Warner was also on the side of accepting that Chris Klieman's halftime fire was necessary.
"We needed it, and that's it too, we answered it well. We all agree with exactly what he said and his temper with the way he said it and certainly gave us motivation and fire for the second half.
Klieman said he saw him in his team at the end of the first half, that they were "shocked" to be in a 13-10 game after their hot start, that's what that's when he decided to bring the fire to the locker room. .
"We talked about 'how are you going to react?' and I probably said it a little more directly than that, but how are you going to react to the adversity you just had because they have all the momentum and even though we haven't started well at third quarter, and it took us a bit, nobody panicked and then once we started hitting those explosive plays – it's a momentum play and you saw life coming back to the sideline during the Deuce run and from there we kind of started to take it to a standstill."