Jeffrey Zients targets the unvaccinated during a press briefing on the White House's COVID response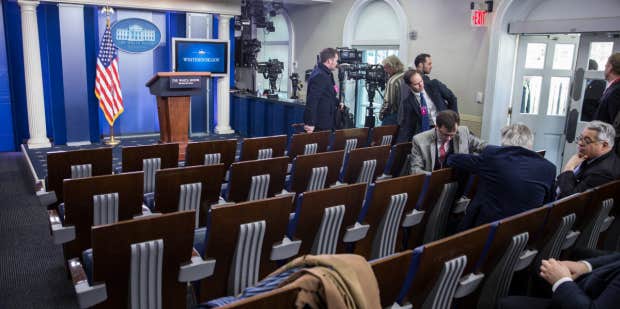 It's been almost a month since the Omicron variant of SARS-CoV-2 was discovered, and COVID-19 has seen a massive increase in the United States, reaching new daily case numbers that we haven't seen since this summer. .
As everyone braces for what could happen next – fears of a second lockdown and what it could mean for the economy – the White House COVID response team issued statements during 'a press briefing that was controversial at best.
Jeffrey Zients warned the unvaccinated of "a winter of serious illness and death" for them and their families
Jeffrey Zients is the current White House Coronavirus Response Coordinator and has opened the White House press briefing on December 17, where he, Dr Rochelle Walensky – the director of the Centers for Disease Control and Prevention – and Dr Anthony Fauci, spoke about the new Omicron variant, vaccines and what it all means for America.
"Today, Dr Walensky will provide an overview of the state of the pandemic and new practices that will help keep schools open," Zients opened, "and Dr Fauci will provide an update on the latest science and the importance of boosters. "
"But before we start, I want to talk about how we should think about this moment."
Zients wanted to discuss the vaccine and how lucky we are now to have the vaccines we didn't have a year ago – how the vaccines and boosters will help contain the Omicron variant.
"Our vaccines work against Omicron, especially for people who receive boosters when they are eligible," he said. "If you are vaccinated you could test positive. But if you do contract COVID, your case is likely to be asymptomatic or mild. "
COVID vaccines and boosters continue to prove effective in preventing serious illnesses when the virus is contracted, even with all of the new variants continuing to emerge.
"We intend not to let Omicron disrupt the work and school of the vaccinated. You did the right thing, and we will be okay with it, "he continued.
According to CDC information, about 61% of the U.S. population has been vaccinated, which equates to over 200 million Americans – but it's still not enough.
After applauding those who are vaccinated for helping fight the pandemic and preventing a second wave of closures and lockdowns, Zients had a message for the unvaccinated.
"For the unvaccinated," he said, "you envision a winter of serious illness and death for yourself, your families and the hospitals that you may soon overwhelm."
A stern warning for those who are not vaccinated who will cause more widespread illness and death due to the ever-evolving virus which is only becoming more and more infectious.
After the briefing, many Americans were stunned by Zients' statement, even those who were not the target.
" Who is it for ? Unvaccinated Americans won't be convinced by messages like this, "said Olivia Nuzzi, Washington correspondent for New York Magazine.
But there are also a lot of people who agree with the statement and reinforce the division and politicization of a global pandemic.
If the unvaccinated don't believe they are going to be harmed or hurt others because of the virus, warning them that they will will not help solve the problem.
Joe Biden is expected to issue a statement and talk about his winter plan with the country on Tuesday, as many wonder what Omicron has in store for the rest of the country.
More for you on YourTango:
Isaac Serna-Diez is a writer who focuses on entertainment and current affairs, social justice and politics. Follow him on twitter here.