Interior Dry. Deb Haaland participates in a press briefing at the White House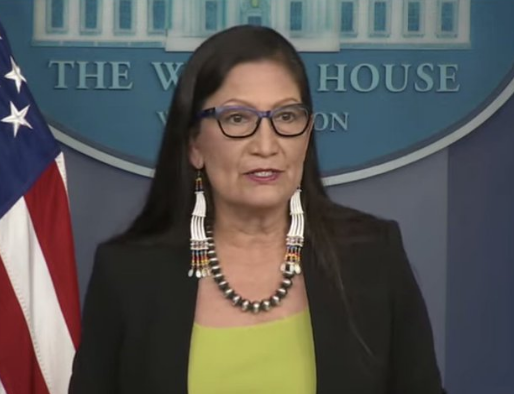 Details

By Levi Rickert



WASHINGTON — Making her first appearance at a White House press briefing, Interior Secretary Deb Haaland answered questions from the White House press corps on Friday.
Haaland, the first Native American to serve as presidential cabinet secretary, answered questions about the expansion of the Bears Ears National Monument to the Environment.
In the afternoon, the Haalands, along with domestic policy adviser Susan Rice, convened the first meeting of the first meeting of the White House Council on Native American Affairs. The Council will coordinate with Tribal Nations as it advances work on key issues such as climate change, tribal lands and treaties; economic development, energy and infrastructure; health; education; public safety and justice; and international indigenous issues.
Ten cabinet secretaries and other senior government officials participated in discussions focused on strengthening the nation-to-nation relationship, improving tribal consultation, and formalizing council working committees.
The White House Council on Native American Affairs was created by executive order in 2013. The Council languished in the last administration. President Biden reinstated the Council in less than 100 days in office.
The White House provided the following transcript of the questions posed to Haaland and his responses:
Q Thank you, Secretary Haaland. Can you give us an update on the moratorium on hydraulic fracturing on federal lands — new contracts?
SECRETARY HAALAND: Thank you very much. So the pause on new leases is still in effect until we complete a review that is due to the President. This means that existing leases are still in effect. We still issue permits on those lands. And when we finish the review — it's an important review — we talk to a lot of people; we had a for- — a forum on oil and gas; we spoke to many people across the country.
When this review is complete, we and the President will decide on the next steps.
Q And can you give us a bit more detail on how this review works, what exactly you are doing and when do you think it will be completed?
SECRETARY HAALAND: So I can't say exactly when it will be concluded, but, as I mentioned, we've had an oil and gas forum before. It was virtual. Departmental people talk to governors, legislators, people in the field. We talk to —
It's mostly, like, getting everyone's opinion. We want to make sure every voice has a place at the table, and it's really that, and the use of science. And that's how we'll do the review. And it will go to the president.
Q We've heard from Republicans in Utah talking about their preference for legislation to expand the size of Bears Ears instead of executive action. Do you think there's room for bipartisan work there, or are we probably looking at some executive action from this administration?
SECRETARY HAALAND: Well, I met these legislators when I was in Utah – the governor, the lieutenant governor, my former colleagues in the House. Legislators legislate, and I think they should go ahead with legislation if that's what they want to do.
We will prepare the report for the president and send it to the White House. And that will really be the president's decision. The Antiquities Act is presidential legislation — you know it's — it's all him; he can decide.
What I did when I went to Utah was make sure that, again, all the voices were at the table. We spoke to herders and farmers; we talked to the kids who use that land, and outside — you know, people in the economy. And so, we are – we want to make sure that we include all the voices, and that's the report that will go to the president, and he will decide.
Q We've heard from so many tribes this year saying, "We're really struggling with teenage mental health issues…" – I mean, a lot of teens across the country, but only teens struggling with depression during this pandemic. Is that a–a question that you're going to take up in this National Council?
SECRETARY HAALAND: I can't — this is our first meeting, so what we're really going to do, initially, is assign committees to each Cabinet Secretary, and it will be up to them to review the topics.
Of course, we care deeply about this issue. I know a lot of people suffer from it, so I appreciate you mentioning it. And once we're able to get a — you know, a clear path on where we're going with the Council, we'll definitely let everybody know.
MRS. PSAKI: Mario, you have to be the last one, but we'll — we'll invite him again.
Q Thank you, Jen. Thank you Madam Secretary.
Just on the back – just a few questions on your comments up top about national parks. Any reason they are still at reduced capacity when we know social distancing outside is the best possible case for COVID?
SECRETARY HAALAND: Well, let's – first of all, I'll say we're taking every precaution we can to make sure that we're keeping people safe. I never want to jump on that. We know there are a lot of vaccinations going on. Yes, our country is safer since President Biden has been in power; we are not there yet.
They will continuously monitor this situation. We want everyone to keep their masks on, social distance, and – and I appreciate the question. We can review it and get back to you.
Q And more business-related: what is your plan to revive the sale of oil and gas concessions in the Gulf of Mexico to the United States?
SECRETARY HAALAND: Once we are – once we – so the existing leases are already in progress. As I mentioned earlier, there is no moratorium on — even on new leases; they are just a pause. So when we – when we're done with the review – what I'll say is right now the permits are still being issued, so – and there are still leases going on.
More stories like this
RESPECT Act held in committee at the request of the National Congress of American Indians
Reporter's Notebook: An entry into a story with the help of a townsman
Vandalized petroglyphs, multiple agencies announce reward for information leading to arrest
KU First Nations Student Association Hosts 33rd Annual Pow Wow and Indigenous Cultures Festival
Native News Weekly (April 10, 2022): DC Briefs
Do you enjoy an Indigenous perspective on the news?
For the past decade and more, we've covered important Indigenous stories that are often overlooked by other media. From the protests at Standing Rock and the toppling of colonizer statues during the racial equity protests, to the ongoing epidemic of Murdered and Missing Indigenous Women (MMIW) and delinquent accounts related to assimilation, cultural genocide and at Indian Residential Schools, we were there to provide an Indigenous perspective and elevate Indigenous voices.
Our short stories are free to read for everyone, but they are not free to produce. That's why we're asking you to donate this month to support our efforts. Any contribution – large or small – helps us to remain a force for change in Indian Country and to continue to tell the stories that are so often ignored, erased or neglected.
Donate to Native News Online today and support independent Indigenous journalism. Thank you.