Freedom of the press and challenges in the digital age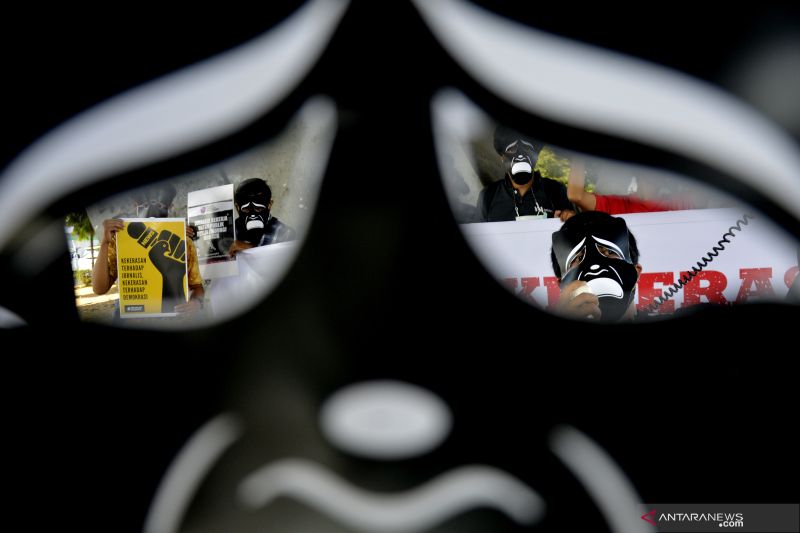 Freedom of the press has remained a very important element of democratic life because it essentially aims to improve the quality of a democracy.
With this freedom, the mass media can transmit a wealth of information to support the role of citizens in democracy.
In the digital age, digital technology and the revival of online platforms have changed the way people produce, share and consume information.
Press freedom faces a variety of challenges in today's digital age, both from external factors and from issues internal to the press itself, Nahria, a professor at Muhammadiyah University, said on Wednesday. during an online discussion entitled "Freedom of the press in the digital age".
Related News: Demanding investigation into the killing of Shireen Abu Akleh by Israeli forces

The US Embassy in Indonesia hosted the debate in commemoration of World Press Freedom Day.
Challenges to press freedom in the digital age include the emergence of social media, information overload, and the changing motivation surrounding media creation.
In addition, press freedom is also hampered by new forms of violence against journalists or the media, such as doxing, flayering, hacking news sites and leaking personal data on social networks.
The emergence of unverified media that use free web platforms, such as Blogspot or WordPress, and ineffective press regulations on online media also present their own challenges.
In particular, press freedom in conflict-prone areas like Papua has not progressed well, Nahria said.
Acts of violence faced by journalists in Papua in 2021-2022 include gender-based sexual violence, threat, terror and intimidation, she informed.
According to data provided by the Indonesian Press Council, Papua's Press Freedom Index in 2021 was 68.87, making it the province with the second lowest score out of 34 provinces.
Related news: Publishers' rights not anti-digital platforms: Press Council
Meanwhile, according to Reporters Without Borders (RSF), Indonesia's press freedom index score in 2022 is 49.22 (least free), with the country ranking 117th out of 180 countries covered by the investigation.
In 2021, Indonesia's press freedom index was 62.6 and the country ranked 113 out of 180 countries.
This portrait of press freedom in Indonesia drawn up by RSF differs from the Press Council's assessment. In 2021, the National Press Freedom Index score was recorded at 76.02, an increase from 75.27 in 2020.
The journey towards realizing freedom of the press so that it truly becomes an inseparable part of the foundation of society will require a long period of time and is hampered due to a variety of challenges and obstacles, said Nahria.
Moreover, in the digital age, where the news industry continues to develop in a veritable flood of information, journalists must professionally meet various digital challenges to ensure that people get quality information. .
"In this digital age, citizen journalism has emerged. (With) this citizen, the workforce of the journalistic sector has become efficient," she explained.
The digital age has the potential to advance freedom of expression. People have the freedom to express themselves and share their experiences through social media, she said.
"The digital age facilitates access to information," Nahria said, adding that press freedom must guarantee people's right to information.
Freedom of the press must be fought with the responsibility to obtain and present accurate information to the public, she added.
Indeed, freedom of the press is not only for the benefit of journalists, but is also related to the right of people to receive authentic information, she noted.
Related news item: Responding to the challenges of the press in the era of digitalization

Digital attacks
Chairman of the Alliance of Indonesian Independent Journalists (AJI), Sasmito Madrim, said the threat against journalists has turned into digital attacks.
The digital age is like a double-edged sword. On the one hand, it empowers journalists, but on the other hand, it has become a threat to journalists and media companies, he said.
For example, attacks on journalists have become easier to carry out due to the presence of digital platforms, he pointed out.
"Also, it has become easier to criminalize (journalists) because of the existence of the Electronic Information and Transactions (ITE) Act," Madrim added.
Digital attacks also have other impacts in the form of high economic losses and trauma, he said.
"When the assets of an e-media company are taken over and then the content is removed, one can imagine how many billions or hundreds of millions are lost when that happens," he explained.
"That's why data backup is important," he added.
Digital attacks also cause trauma that affects not only the victims, but also their families.
Types of attacks experienced by journalists and media include doxing (posting personal or identity information on the internet), hacking, and distributed denial of service (DDos).
"However, the digital age also brings benefits, such as facilitating the work of journalists and collaboration," Madrim pointed out.
When it comes to journalism in the digital age, AJI is pushing for regulation of digital attacks on journalists.
"Because digital attack is not included in the regulations," he said.
AJI will also strengthen the dissemination of information regarding digital attacks on journalists among law enforcement authorities.
"Afterwards, he will strengthen the safety of journalists and develop cooperation with the digital laboratory," Madrim said.
"AJI does not yet have human resources that understand digital forensics, even though digital forensics is needed to find perpetrators of digital attacks," he added.
According to AJI data, 43 cases of violence against journalists were recorded from January 1 to December 25, 2021.
The most frequent forms of violence were terror and intimidation (nine cases), physical violence (seven) and denial of coverage (seven).
AJI also recorded cases of digital attacks (five), threats (five), and lawsuits (four).
In terms of perpetrators of these attacks, the police ranked first (12 cases), followed by unknown persons (10), government officials (eight), citizens (four), professional workers (three) and companies, military, prosecutors and civil organizations (one case each).
Regarding Papua, Madrim noted that to date, the province has yet to open access to foreign journalists.
AJI data shows that 69 applications were submitted by foreign journalists to cover Papua during the period 2016-2022, of which 14 were rejected and 55 approved.
Of the 14 rejected requests, nine were registered in 2019.
"In 2019 there were huge anti-racism protests across Papua," he said.
AJI had tried to confirm this with the Ministry of Foreign Affairs, the Coordinating Ministry of Political, Legal and Security Affairs of the Republic of Indonesia, as well as the Presidential Personnel Office.
However, to date, no clear reason for the rejection has been provided.
In 2019, the government also cut internet access in the region, which prevented journalists and the public from obtaining information.
As a result, people ended up getting pranks and word of mouth, Madrim said.
Related News: President Supports Immediate Release of Publisher Rights Regulations

USA Support
The political officer at the US Embassy in Jakarta, Mark Neighbors, stressed the importance of press freedom throughout Indonesia, including granting access to foreign journalists to cover Papua.
Everyone should know what is really going on in Papua. Transparency and accountability must exist as they are important elements of a democracy, he noted.
Internet has become a part of human life. It has become easy for people to get information anywhere compared to 20 or 30 years ago when getting information was difficult because there were only telephones and fax machines.
Deputy Press Secretary at the US Embassy in Jakarta, Nicholas Geisinger, stressed the need for people to understand freedom of the press.
The press is the fourth pillar of democracy that complements the executive, legislative and judicial branches, and a free press supports the principles of democracy, he explained.
The United States is very committed to protecting freedom of the press as one of the pillars of democracy.
The open provision and exchange of information have become pressing issues for the United States and Indonesia, Geisinger noted.
Related News: G20 DEWG works to bridge the digital divide
Related News: G20 delegations back 4 priority education-related agendas in EdWG