Everything Ben Johnson said at the Big Ten Media Days press conference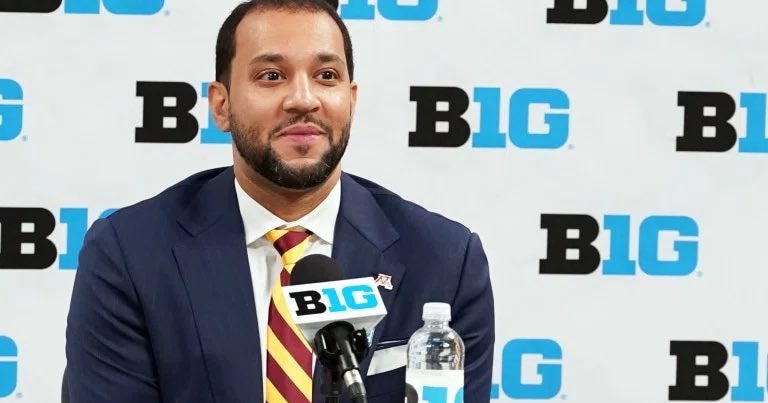 Minnesota head coach Ben Johnson stepped on the podium this morning at the Big Ten Media Days. Here's everything Coach Johnson had to say during his nine-minute press conference Wednesday morning.
Kevin Warren: "The next coach on the podium is one of the brightest young minds in all of college basketball, Ben Johnson. He is a Bell Bank champion and part of what they call the Pay It Forward program here in the Twin Cities community to help underserved youth achieve their goals.
"We are so happy to have him in the Big Ten Conference, as a former student-athlete, but now as the head basketball coach at the University of Minnesota.
"We welcome to the podium, head coach Ben Johnson.
Ben Johnson: "Hello. Appreciate being here. Appreciate Kevin and the rest of the Big Ten Conference for doing a phenomenal job again, not only with Media Day, but just with what we do within our league to making us the best in the country. I think that's second to none. Thank you for everyone who helped put this together.
"Really, really excited about my team this year. I want to start by thanking two guys, Fox Parker and Isaiah Ihnen, two players who unfortunately suffered a setback for the second time this summer. But I know these guys will pull through and will be looking forward to joining us next year.
"That being said, it gives guys opportunities that maybe wouldn't have had this to step up and really help our program move forward in year two.
"I hope most of those beneficiaries will be our young freshmen who I couldn't be more excited about, who are enthusiastic workers, eager learners. Combine that with four upperclassmen who have kind of been through that, have incredible leadership qualities that have made the transition of all of our young players really smooth and effortless.These guys are going to set the tone for our season.
"Looking forward to this year, coaching this group, taking a step up in Gopher basketball.
"With that, I will answer all your questions."
Q Can you expand on the roles of some of these freshmen, especially in the front yard with some of the injuries you've had.
Ben Johnson: "I think the opportunity is the most exciting part, especially if you are those guys. It's going to be by committee. We have more depth in the year, which will help. Not everything will be on the one guy's shoulder. obviously adding Dawson Garcia, a guy who has proven himself at this level, at the top major level, the tone he set with just his work ethic, how he is every day, I think that's the most important thing that we took as a team, is with Dawson and Jamison and Taurus and Ta'Lon, teaching these young people. When I say 'young', I include Treyton Thompson in that. We had six.
"Teaching these guys how to compete every day and set the tone. When you have young talent that's a good thing. But now it's like you can combine that with the work ethic of what's going on. it takes to be competitive in the Big Ten."
Q At least four times this season there will be Big Ten games with two black head coaches on each sideline. Have we reached a point where this is almost becoming a rule rather than an exception?
Ben Johnson: "I think our league has taken a big step in the direction with just diversity, inclusion at all levels. I think now it's our job in the positions that we have to succeed and do things the good manner.
"But I think now, just in college and in athletics, hopefully in life you're really starting to see the tempo turn with just the inclusion, whether it's black coaches in our league or women, what have you. I think our league has always been at the forefront of doing that.
"Again, I think we all take pride in behaving in the right way, developing our programs and winning on and off the pitch, setting a good example."
Q The curator's themes are charity work, inclusions and connections to Minneapolis. It feels like Minneapolis should be championed as the host city here. What do you think of the criticism of having it in Minneapolis? Is it crazy?
Ben Johnson: "I think sometimes we live in a world where a lot of things are criticized. I don't know if you can make the right choice, can you? There will always be something to say anyway.
"But I think when you have a Big Ten tournament that's going to be played here for the next couple of years, you have a city that does a great job of hosting. We've hosted almost every major sporting event, whether it's act of an All-Star Game, a Super Bowl, NBA Playoffs.
"I also think that in college sports, diversity is key. I'm sure in a few years we might have some stuff out West. I don't think changing and doing new things is a bad thing. I think that's a good thing.
"I think Minneapolis is doing a great job of hosting. I think we're using this as an opportunity to show our state and show our city. I think the 80 degrees yesterday was a good thing. I don't think let anyone complain. We have another good day today.
"I think everything is positive (smile)."
Q Speaking of Jamison's Battle, how has it evolved from last spring to now and what makes it unique?
Ben Johnson"Enjoy this question.
"First thing I'll say off topic, I thought you did a phenomenal job, you have to watch TV with you and the Millers, Field of 68. Phenomenal (smile).
"No, I think Jamison, you're talking about a guy who transferred from, in quotes, a mid-major and had really good numbers. Very rarely do those numbers match when they jump to a major high and your role is almost the same, isn't it?
"For him to have the same amount of production and do it the right way as part of what we're trying to do as a team, I think, says a lot about who he is and how talented he is.
"Now he's taken the next leap not only with his body, he's lost 17 pounds, he's under 9% body fat, but now his experience, because he's been through it, teaches all of our guys every day. in training.
"I tell the freshmen he beats, you gotta be the luckiest guys in the world because you're learning from a guy who I think has a chance to play at the next level, pre-season draft. All Big Ten.
"They have these daily battles. Iron sharpens iron.
"He's done an amazing job of setting the tone for our program. You're talking about a student-athlete who has it all, who runs his business off the court, socially. He's what the Minnesota basketball and will continue to be."
Q You brought a lot of size and length with this class. Can you talk about the versatility you've seen so far.
Ben Johnson: "Yeah, it was a key element when we started the second year with the recruitment. We were really going to start, Isaiah was going to start at two at 6'10". It is versatile.
"Our plan was a bit like this: if you have versatile pieces that can play a variety of styles, for me, not only is that the trend for this kind of college, but it's the professional trend, and that is an exciting style. It gives a trainer a bit more freedom if you have injuries, if you have these versatile components.
"I think that's how kids want to play. So for us, we're going to target that when recruiting. If we can add athleticism, versatility and length without compromising the technical part, that's what we're going to try to do.
"I can't wait to see what this team can do with this next step and what we look like and how we're going to play."