Climate, Yemen, Ukraine & other topics – Daily Press Briefing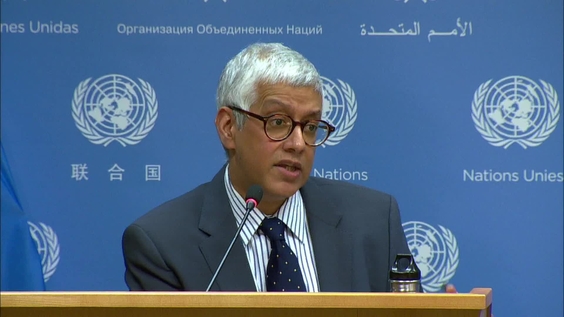 Today is the International Day for Mine Awareness and Assistance in Mine Action.
Moments ago, the Secretary-General addressed, in a video message, the press conference launching the third report of the Intergovernmental Panel on Climate Change (IPCC).
On Ukraine, you will have seen the Secretary-General's statement issued yesterday in which he said he was deeply shocked by the images of civilians killed in Bucha.
Our team in Moldova lowered its flag in memory of the civilians killed in Bucha, Ukraine.
On Saturday, the special envoy for Yemen, Hans Grundberg, marked the start of the two-month truce concluded in Yemen.
On South Sudan, the UN peacekeeping mission welcomes the decision taken yesterday by the signatories of the Revitalized Peace Agreement to unify the command structures of the security forces.
The United Nations peacekeeping mission in Mali – MINUSMA – has opened an investigation following reports that civilians were killed in clashes last week between Malian armed forces and militants in Mourrah.
Our United Nations team in Sri Lanka, led by the United Nations Resident Coordinator, Hanaa Singer-Hamdy, is closely monitoring the situation in the country after increasing periods of power cuts, fuel shortages, worsening inflation and currency devaluation.
In Sierra Leone, our team – led by Resident Coordinator Babatunde Ahonsi – continues to support authorities in responding to COVID-19.
We take note of the settlement reached between the Government of the Kyrgyz Republic and Centerra Gold Inc. regarding the Kumtor gold mine.
Finally, we have received full regular budget payments from Nicaragua and Turkey, bringing us to 83 contributing Member States.