BRYAN AGAINST. QUOTES FROM DUBOIS FINAL PRESS CONFERENCE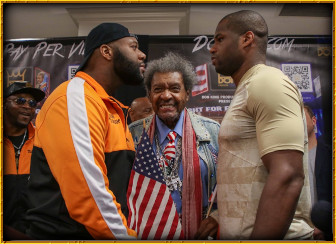 BRYAN AGAINST. QUOTES FROM DUBOIS FINAL PRESS CONFERENCE
PhilBoxing.com
Thu 09 Jun 2022
STELLAR NIGHT WILL BE HELD AT MIAMI JAI-ALAI CASINO ON SATURDAY, JUNE 11 AND LIVE ON PAY-PER-VIEW
Miami, FL (June 8, 2022) – The world's biggest boxing promoter, Don King, held a press conference today in Miami as the countdown continues to a spectacular boxing card featuring six title fights topped WBA Heavyweight championship with champion Saturday night featuring Ft. Trevor Bryan of Lauderdale (22-0, 15 KOs) and Daniel Dubois of London (17-1, 16 KOs) at Casino Miami Jai-Alai .
The card, titled "The Fight for Freedom and Peace," will begin at 4 p.m. (doors open at 3:30 p.m.) and the main event will take place at 6:30 p.m.
Tickets are on sale for $100, $75 and $50 and can be purchased online at https://playcasinomiami.com. The card will also be featured on Pay-Per-View and on the internet at www.donking.com and www.itube247.com.
Here's what the fighters had to say: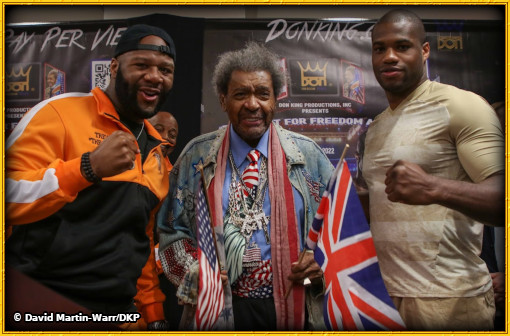 DON KING, GLOBAL PROMOTER OF DON KING PRODUCTIONS
"I am very happy and very honored to be able to be here to have this press conference for all these great fights that are going to take place here on Saturday. It's a great event. It is the "fight for freedom and peace".
"'The fight for freedom and peace is dedicated this time to the brave and courageous people of Ukraine. What we have here, with these guys fighting, we're going to have a great time.
"Around the world, there's just a feeling that 'nobody knows Trevor.' On this side of the podium is "The Dream". This man has a dream, and that's what it's all about in America. This young man is undefeated, and his dream has been to remain champion of the world. Nobody from yesterday becomes someone from tomorrow. Let me mention this young man here, the WBA world heavyweight champion, Trevor 'The Dream' Bryan.
FRANCIS WARREN, BOXING DIRECTOR AT FRANK WARREN AND QUEENSBERRY PROMOTIONS
"I just want to say it's a pleasure to be here in Miami with Daniel and the team and a big thank you to Don and all of his great staff for making us feel so welcome and putting on a great event."
"Daniel has been waiting for this for a long time and we have huge respect for Trevor as a world champion, but Daniel is here to do the business and we are fully confident that we will go home with the new WBA world champion."
TREVOR BRYAN (22-0, 15 KOS), WBA WORLD HEAVYWEIGHT CHAMPION
"Hey listen. This is who I am. This is Trevor Bryan. See that face here? I've been here a long time, and I'm going to be here a long time. First of all, I also want to thank you guys for coming all this way to get this fucking whooping cough. Don King, thank you, bro, for putting this all together.
"Let me say a few more things. See my face again: it's Trevor Bryan, the undefeated WBA heavyweight champion. This fight is called the "fight for freedom and peace", but before you have freedom and peace, you have to have war, and war is what you are going to have on June 11th. It will be a war.
"I'm nobody, you're just going to walk through me, right? That's not going to happen. I hope you're ready because I'm telling you right now: it's going to be a hard night for you. You won't go home across the pond with the belt on.
DANIEL DUBOIS (17-1, 16 KOS), NO. 1 HEAVY WEIGHT CONTAINER
"100%, I'm ready to scold. I am here to make myself proud of myself, my family and my country. This is what I expected, and I can't wait for Saturday. I'm gonna have to go through Trevor and bring that belt back with me on the plane. Let's go!"
DACARREE SCOTT (7-0, 6 KO), NABA GOLD HEAVYWEIGHT CHAMPION
"I'm DaCree 'Mack Truck' Scott. I'm 7-0. It didn't take me long to get to this point. I'm sorry for your loss, but I'll say it again, that's what I If y'all thought my last fight was good it was on three days notice I got a full camp this time It's pronouncement season.
JONATHAN GUIDRY (17-1-2, 5 KO), CONTAINING HEAVYWEIGHT
"Thank you all for the opportunity to come back and fight for another title again. My promoter passed away, so I'm going to fight this fight for him, and I'm going to bring that belt back to Louisiana.
JOHNNIE LANGSTON (10-3, 4 KOS), NABA CRUISERWEIGHT CHAMPION
"I'll tell you what time it is. I hear what he's talking about, but I'm gonna take that belt home. Saturday, I hear it, but I don't think I came all this way for nothing. It was my life's dream to be champion, so I will keep the belt.
ISAIAH THOMPSON (6-1-1, 5 KOS), CONTAINING CRUISERWEIGHT
"My name is Isaiah 'Night Night' Thompson. Yes, I will be the challenger. I don't really have much to say, I'll just go out there and show it.
---
Recent PhilBoxing.com internal articles:
Laurente wins RP Youth super featherweight title
By Lito delos Reyes, , Mon, 20 June 2022
Barriga arrives in Kissimmee for Bomba Gonzalez's WBO title clash
Mon, 20 June 2022
Spain win the Group World Cup for the first time
Mon, 20 June 2022
Dimakiling second in the Singapore blitz
By Marlon Bernardino, , Mon, 20 June 2022
COLOSSAL USYK VS. JOSHUA REMATCH LANDS IN THE KINGDOM OF SAUDI ARABIA
Mon, 20 June 2022
SPAIN AND SINGAPORE COMPETE IN THE 2022 POOL WORLD CUP FINAL
Mon, 20 June 2022
GM Laylo wins the SG Chess Festival Classical 2022
By Marlon Bernardino, , Mon, 20 June 2022
3-Belt King: Artur Beterbiev annihilates Joe Smith Jr. in 2 rounds
Sun, 19 June 2022
Croatian featherweight Arijan Goricki TKO Suat Laze in Zagreb
Sun, 19 June 2022
JACK BATESON BEATS RUIZ IN LEEDS AS OHARA DAVIES AND ARCHIE SHARP WIN
Sun, 19 June 2022
The new WKN king crowned in France: Bryan Lang "Simply the Best" at Cristal Boxing Event 5
Sun, 19 June 2022
Loukatos wins Predator Germany Open and Fisher becomes three-time Pro Billiard Series champion
Sun, 19 June 2022
Undefeated featherweight Avraham Nova is set for tonight's showdown with Robeisy Ramirez
Sun, 19 June 2022
USA AND SPAIN COMPLETE SEMI-FINAL LINE AT 2022 POOL WORLD CUP
Sun, 19 June 2022
Dimakiling finishes second in Grand Copthorne Professor Lim Kok Ann Invitational GM Tournament 2022
By Marlon Bernardino, , Sun, 19 Jun 2022
GYM signs Canadian amateur star Caroline Veyre; Professional debut scheduled for July 29 in Montreal
Sun, 19 June 2022
Weight of Rosemont, Illinois LIVE Tonight on BXNGTV.com
Sat, Jun 18, 2022
CHINESE TAIPEI AND SINGAPORE IN THE 2022 WORLD SWIMMING CUP SEMI-FINALS
Sat, Jun 18, 2022
Laguna takes two wins as WIM Fisabilillah makes his debut
By Marlon Bernardino, , Sat, 18 Jun 2022
Bryan Lang vs. Vincent Naxos for the official WKN lightweight title at Cristal Boxing Event 5 in Baccarat, France
Sat, Jun 18, 2022
Predator Germany Open 2022 – Fisher to face Kibaroglu to be crowned women's champion
Sat, Jun 18, 2022
Dimakiling fails to win 3rd GM standard
By Marlon Bernardino, , Sat, 18 Jun 2022
New York Weigh-In Results: Artur Beterbiev – 175lbs, Joe Smith Jr. – 174.6lbs
Sat, Jun 18, 2022
JONHATAN CARDOSO-JUAN HUERTAS STREAMING TONIGHT AT 9 PM ET / 6 PM AND LIVE ON PROBOX TV
Sat, Jun 18, 2022
FULL RANGE OF FINLAND, SWITZERLAND AND GREAT BRITAIN
Sat, Jun 18, 2022