Australia news – PM's XI to return in four-day pink ball game against West Indies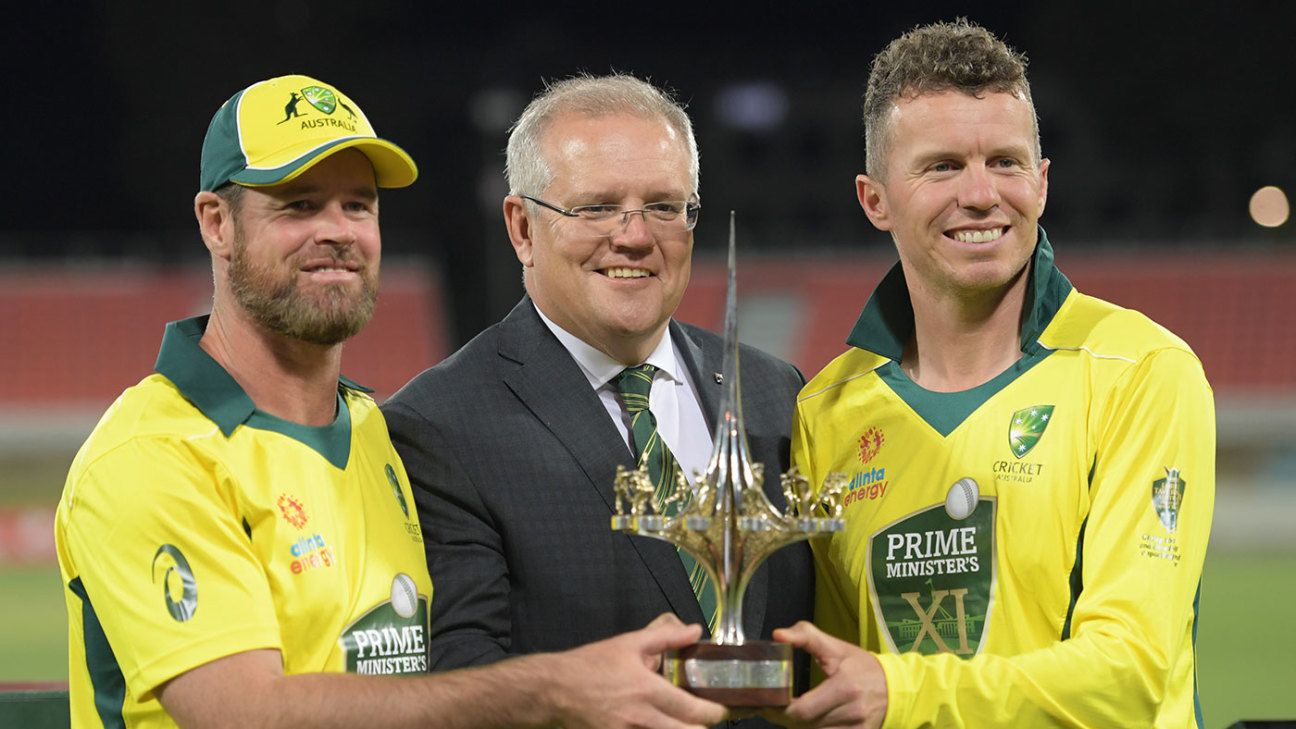 The traditional Premiership XI game will return this summer after a two-season gap due to Covid-19, but in a new form as a four-day pink ball game against West Indies ahead of their two-Test series.
The match will be played under floodlights at Manuka Oval from November 23-26. Although the exact line-up of the squad is yet to be confirmed, it could closely resemble an Australian A team. The home side will be coached by Australian men's assistant coach Andre Borovec alongside Jono Dean who is the current coach of the Australian Capital Territory women's team.
The game is taking place alongside a series of Sheffield Shield fixtures, but it could feature a number of players emerging in the domestic game with an eye to the future. Australia's test squad for the series against the West Indies, which kicks off in Perth on November 30, will have already been selected. The second test of the series in Adelaide will be a day-night encounter.
"The timing of the game… leading up to the Test summer, for the players I see it as a stepping stone in their ability to play against international teams," Borovec said. "The pink-ball nature of this game gives it a uniqueness that requires different skills at different times. Above all, it's an opportunity and a collection of information for managers and coaches."
ACT chief executive Olivia Thornton said it was important for Canberra, who are currently hosting two men's T20Is between Australia and England, to be a central part of hosting big matches. In the coming years, the Gabba will not be available as it is rebuilt ahead of the 2032 Summer Olympics in Brisbane, which could open the door to adding to the men's Canberra test which it previously hosted against Sri Lanka in 2019. Last summer, Manuka Oval hosted the massive successful and thrilling Women's Ashes Test.
"We are always ready to be innovative and we are certainly eager to see what is [the pink ball] is like," Thornton said. "We've shown time and time again that we can produce quality surfaces, whether it's T20, Test matches, one-dayers, we're in very good hands.
"We've certainly had a few runs on the board in the last little period. If you look back two years ago thanks to Covid, it was actually Canberra that facilitated a number of games here thanks to the Big Bash .
"I was asked the other day to have to prove we were there, I think that's it, I don't think we need to prove anymore. We're really proud of what we're doing here. I know players like to play here, it's a hidden gem to some extent."
Prime Minister Anthony Albanese will have an "active role" in team selection alongside national coach George Bailey.
"I am delighted to confirm the return of the Prime Minister's XI this summer, an Australian tradition that has lasted 70 years," said the Prime Minister.
"With Cricket Australia I am very happy to host the West Indies. I grew up loving watching Viv Richards, Malcolm Marshall and Joel Garner so I am delighted that my first Premier XI as Prime Minister will be against West Indies current stars here in Canberra.
"I would also like to thank Andre and Jono for the leadership they will bring to my PM's XI squad. In the coming weeks I will be meeting with national selectors to discuss what I suspect will be a very strong."