Andhra Pradesh: Minister dismisses illegal mining allegations by TDP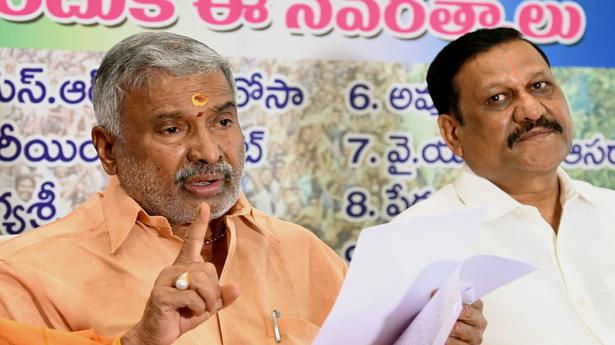 Dismissing opposition allegations of "rampant illegal mining", Energy, Environment and Forests Minister Peddireddi Ramachandra Reddy said the mines ministry came third in the country for its "impressive and consistent performance".
Rebuking TDP National Chairman N. Chandrababu Naidu for accusing the state government of plundering wealth especially from "indiscriminate mining" in Rushikonda, he maintained that all activities were undertaken in accordance to established procedures.
"Mr Naidu is known to have made a mountain out of a molehill. If there was any deviation, it only happened during his tenure," the minister told media here on Thursday.
Mr. Ramachandra Reddy said the majority of mining licenses for the Kuppam area were issued during the terms of Congress and the TDP, while the YSRCP government issued licenses for only two mines.
"When it was discovered that the miners were operating beyond their assigned areas, we sent out notices and stopped the activities," Mr Ramachandra Reddy said.
All 75 mining areas in the state, which the TDP claims are illegal, were granted licenses during Mr Naidu's tenure, he said.
The minister also dismissed claims that permission had been granted for mining in the hills of Ravvalakonda, where the famous diviner Pothuluri Veerabrahmendra Swamy had made his famous predictions.
NGT fine

"Mr Naidu seems to have forgotten the hefty ₹100 crore fine imposed by the National Green Tribunal (NGT) during his regime for illegal sand mining in the Krishna River," Mr Ramachandra Reddy said.
The minister specified that his department continuously monitors mining activities using satellite images and by forming regional vigilance brigades.