African Union Summit, Mali, Ethiopia and other topics – Daily press briefing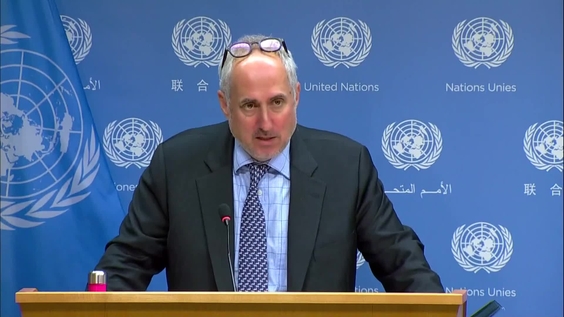 The Secretary-General will travel to Stockholm, Sweden on Tuesday to attend the Stockholm+50 conference, which is convened by the United Nations and co-hosted by the governments of Sweden and Kenya.
Emergency Relief Coordinator Martin Griffiths is in Malabo, Equatorial Guinea, where he spoke today at the opening of the Extraordinary Humanitarian Summit and the African Union Donors' Conference. Mr. Griffiths represents the Secretary-General there.
Following his activities in Equatorial Guinea, the emergency relief coordinator, Martin Griffiths, will be in Mali from tomorrow. He is expected to meet government officials and representatives of the humanitarian and donor communities.
With regard to northern Ethiopia, we and our humanitarian partners continue to provide assistance in Tigray, Afar and Amhara.
With regard to the Democratic Republic of the Congo, our colleagues in the peacekeeping mission tell us that clashes with the M23 took place early yesterday. The Congolese armed forces were able to regain control of their positions about 20 km south of Rutshuru, in the province of North Kivu.
Ukraine is entering its fourth month of conflict, and our colleagues are extremely concerned about the fate of civilians, as hostilities escalate further in the eastern oblasts, notably in Luhanska and Donetska.
The Secretary-General's Special Envoy for Myanmar, Noeleen Heyzer, briefed the Security Council this morning behind closed doors.
We issued a statement on Afghanistan yesterday, in which the Secretary-General condemned the recent attacks in the country.
Rosemary DiCarlo, Under-Secretary-General for Political and Peacebuilding Affairs, addressed the Security Council's open meeting on Libya yesterday afternoon. She expressed concern over the prolonged political stalemate, which she said is having an increasingly negative impact on security.
 
The building is closed on Mondays. We will not brief.
 
On Tuesday, there will be an end-of-presidency briefing here at 1:30 p.m. by Ambassador Linda Thomas-Greenfield, the Permanent Representative of the United States, on her last day as President of the Security Council for the month of May.