10 takeaways from Chris Ballard's end-of-season press conference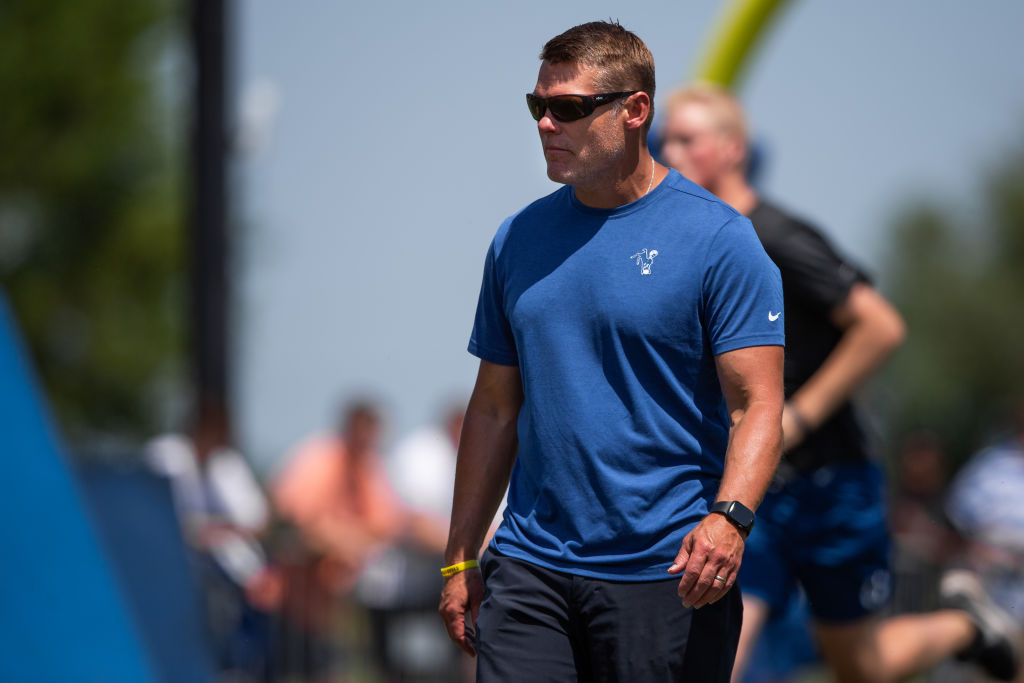 INDIANAPOLIS – As always there was a ton to dissect from Chris Ballard's end of season press conference.
The next time we hear from Ballard will likely be around the Combine, so his words on Thursday set up the next few weeks of meetings the Colts will have internally to discuss so many of the issues below.
Here are my top 10 takeaways from Ballard's presser:
1. Zero commitment to Carson Wentz
If you're in the Carson Wentz camp, you're uneasy after hearing from Frank Reich and Chris Ballard this week.
There was no endorsement of the quarterback remaining the starter in 2022.
Ballard, in particular, was very candid in his critical assessment of Wentz and the need for better play from him.
At this point, it looks like the important decision makers in Jim Irsay and Ballard have some very real questions about Wentz's future.
Will the lack of available QB options mean the Colts will return with Wentz for another season?
2. Tepid on wide receiver need
I'm not sure there's a bigger gap in how the fan base views the need for the wide receiver compared to Ballard.
While Ballard wouldn't mind some dynamic talent at the top of the depth chart, he also said he really likes the young in-house WR talent on multiple occasions.
Ballard thought Zach Pascal's year (a free agent in 2022) was an outlier. He named Ashton Dulin, Dezmon Patmon and Mike Strachan as young names to watch.
Unlike his position on the leveler at the tight end or along the defensive line (see more below), the wide receiver isn't at the forefront of Ballard's mind when talking about the necessary improvements.
Of course, if that's how Ballard feels, what does that say about Carson Wentz's assessment of last year?
3. Two needs above the rest
For me, I heard two positional needs mentioned the most/with the most vigor from Ballard.
It would be tight end: "Tight end needs work. Depending on what Jack (Doyle) does (retirement decision). Mo Alie-Cox is (a free agent). We love Mo. We would like to get Mo back. And then we have a young boy in Kylen (Granson), who we think has shown some things and he will continue to grow.
And create more depth on the defensive line"In defence, we need to expand our defensive line. We need 8 (guys to turn up front). You need a wave.
At the tight end, Jack Doyle is debating retirement. While the Colts want Alie-Cox back and still have high hopes for Kylen Granson, Ballard stressed the need to strengthen this group.
Along the defensive line, it looks like more 'quantity' rather than 'quality', with Ballard firmly believing the way to improve pass rush is to have depth in the lineup of guys 8- 9.
4. Another year of Eric Fisher at left tackle
Let's start with a popular question: Quenton Nelson doesn't switch to left tackle.
Ballard cut that question aggressively, saying Nelson would be on guard with the team set to hand him a nice contract extension at some point.
At left tackle, Ballard says the goal is always to find the long-term solution, but it looks like the short-term option will again be Eric Fisher.
"I know (Fisher) struggled late with the pro pass, but he's struggling to recover from the Achilles," Ballard said. "He ends up playing pretty decent football without an offseason, without being here. He was really good at the running game. We're asking him to do different things from a pass protection perspective that he really hasn't had a chance to work on. I think Fish will tell you that there are times in pass pro where he should be better.
"Fish still has a lot of good football."
Matt Pryor is a free agent and is another name Ballard has recognized as a possibility, with some positional flexibility there as well.
5. Love his coaching staff
When asked how the coaching staff was blamed for missing the playoffs despite a record 7 Pro Bowlers, Ballard wasn't going down the path of criticism.
"We weren't perfect, but I definitely have my hand in it," Ballard said. "We have a good team of coaches. They do a good job. I think you can tell. (Matt Eberflus) interviews a few places. People notice the work he does. Seven Pro Bowlers is great. These are individual distinctions. At the end of the day, the team. It's about winning, making the playoffs and trying to win a Super Bowl. We failed to do so.
Again, Ballard offered various criticisms throughout his hour-long presser, but nothing on the coaching staff front.
Expect little to no change from the Colts with their personnel.
Ballard also gave Frank Reich another endorsement.
"Good head coach, good football coach," Ballard said of Reich. "He only had one losing season, 7-9 (in 2019). It was my fault, not his. We've had a different quarterback every year and we always find a way every year to be really competitive and be a good football team. I think he's really, really good as a head coach. I think anyone who questions that…this guy is good. He's a boss. He has a plan. He is flexible. He is aggressive, but also knows when to back off. We are lucky to have him. I promise you. We are lucky to have Frank Reich.
6. Is the approach to free agency changing?
Did the results (1 playoff win, no division title) in 5 years at the head of the Colts change the way Chris Ballard thinks about roster building?
"That's a good question," Ballard said Thursday. "I thought about that a lot. I always believe that you win the match in advance. I think it's proven. I don't think that will ever change in my belief system. You have to be good on the O line and the D line. You have to be. You have to have a good quarterback game. Then the rest of your point guards have to do their job. You can move forward with the deep connection you have. I was listening to someone talk the other day and I thought that was really good. You can have a very deep conviction about how you think things should be built and run and also have the curiosity and flexibility to change along the way. I think we did. Because we are a very curious group. We ask questions. We want to grow. And I think we had a few moments of flexibility. I know people think we haven't done anything. But we traded for (DeForest) Buckner, we traded for Carson (Wentz). We have taken steps. Whether they were right or wrong, we took steps to make the team more aggressive. So we'll look at that. But one thing I won't change is you win in front, O-line, D-line. I thought it was visible until the last two weeks. It's hard to get over when those two things aren't there.
Questions for Ballard and the building focus more on pass-happy positions (QB, WR, LT, DE, CB) and his use of free agency.
With the Colts having no first-round picks in 2022, does that mean free agency takes on more importance this offseason?
"I think you all know my philosophy on free agency," Ballard said. "I think it all depends on who the player is. Does it suit us? Just to go sign a free agent because y'all are calling for one, I think we know some of the suggestions from the past. Those would have been really nice. I think it's case by case what we want to do. I don't think signing big-name free agents always equates to winning. It's signing the right free agents that equals winning.
seven. Big fan of TY Hilton
Chris Ballard has yet to speak with TY Hilton about a possible retirement.
But Ballard continues to praise the type of leader Hilton was in their 5 years together in Indianapolis.
"I love her," Ballard said of Hilton. "He's an incredible Colt. He's an incredible person. He grew up. He was amazing.
If Hilton wants to play another year, could we see Ballard wanting to bring The Ghost back for a much cheaper price?
8. Includes size
In his own words, Chris Ballard says three consecutive years of finishing 10and, sevenand and 8and, respectively, in the AFC does not meet the standard.
This is particularly the case with this regime which reaches the 5-year mark.
"It's not acceptable and we won't accept it," Ballard said. "The expectations are higher, especially where we are with Frank (Reich) and I who have been together for 4 years and we are building this. Expectations are higher and we accept it.
Ballard also emphasized the long-term vision needed to build rosters. But he spoke a lot in the immediacy at various times on Thursday.
"That's the good thing about this league, there's always a solution," said the general manager. "There is. It's our job to solve the problems and find the solution. It may not be the perfect solution. It may not be perfect. It may not be the long-term solution, but there is a solution every year. There is a little time and luck to sometimes find long-term solutions in certain positions, but there is a solution for that year. But this is what we must work towards.
9. The cornerback needs it
In addition to the tight end and defensive line, throw the cornerback in the group of positions that Ballard called a worthy upgrade this offseason.
"On the corner, you're always going to be looking to add," Ballard said.
Xavier Rhodes and TJ Carrie are free agents this season. Both have struggled to be available this year and have taken a step back from their play in 2021.
But Ballard was pleased with the progress of some of the younger ones.
"I thought Rock (Ya-Sin) had taken another step," the general manager said. "I thought Isaiah (Rodgers) had grown up. Kenny Moore had a very good season. He probably didn't play his best ball at the end, but he played really good football.
10. Kicker Battle coming soon?
Michael Badgley is a free agent. Rodrigo Blankenship remains under contract.
It looks like Chris Ballard is ready to bring them both back, with a possible competition at camp.
"Rod gets hurt before the game in Baltimore, he has a bad game because of that, that's what it is," Ballard said. "He missed the extra point. He missed the game-winning basket. He had his field goal blocked. We put it under IR. We bring (Michael) Badgley. Badgley ended up having a pretty good season. I wouldn't say elite, but it was fine. We will work on it.
"We still think Rod has a good advantage and I like Badgley. It's too early to say exactly what we'll do but we like both guys.
If the right kicker opportunity presents itself, would Ballard consider adding another (presumed bigger) leg to the mix?